Posted by Book Mavens on 22nd July 2012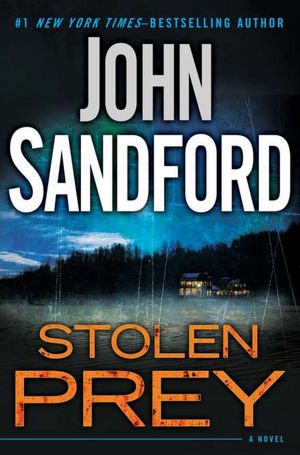 Title: Stolen Prey
Author: John Sanford
Publisher: Penguin, May 2012
Review/Summary: I came across John Sanford years ago when looking for my favorite type of fiction about Cops and Detectives and Thugs. Twenty-two books later, featuring detective Lucas Davenport, Mr. Sanford still knows how to write a great story filled with an intense plot and lots of different angles taking place.
Lucas Davenport is a Minneapolis Cop who is tough with that peculiar sense of humor that makes him so likeable. In Sanford's latest Prey book the opening sees Lucas getting robbed at an ATM, breaking his wrist in the confrontation as well as wounding his ego a tad. The two thugs, man and big burly woman, get away but Lucas is determined to find the two punks who robbed him. It leads to some very smelly horse manure as his puts another cop, Virgil Flowers, on the case.
In the meantime he's called into a case of an entire family being murdered. A husband, wife, kids, pets – dead. It's horrible. As the investigation heats up computer geeks, a bank, and some trigger happy Mexicans become central to finding out the truth about what happened.
Lucas Davenport is older and mellower in this story and as usual sidesteps the rules whenever necessary but you won't be disappointed with the action and the conclusion.
 Who will like this?: Someone looking for an exciting criminal thriller. Fans of Sanford, who have read the other Lucas Davenport books.
 If you like this, try this: This book is a part of a collection of books featuring Lucas Davenport, including "Chosen Prey", "Broken Prey", and "Hidden Prey". If you liked this one, you may want to check out the others. This one is #22, so you'll have a lot of choices!
If you like this author's style and would like to try out some similar authors, try Michael Connelly or Jeffrey Deaver. If you're looking for an international crime author, Stieg Larsson ("Girl With the Dragon Tattoo") may be a good choice.
Recommended by: Nancy, Branch Librarian
If this looks like something you'd be interested in, visit the Fairfield Public Library catalog to place a hold or see if it's available right now! [Link will open in a new window]
Tags: 2012 Releases, Crime, Detective, Minnesota, Murder
Posted in Fiction, Mysteries & Thrillers, Popular | No Comments »