Posted by Book Mavens on 24th May 2012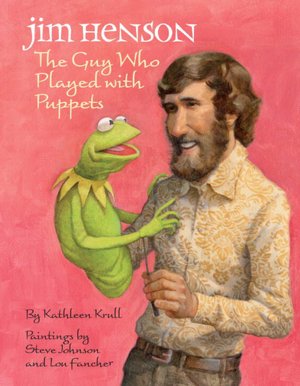 Title: Jim Henson: The Guy Who Played With Puppets
Authors: Kathleen Krull and Steve Johnson
Publisher: Random House, 2011
Review/Summary: Jim Henson: The Guy Who Played with Puppets is a beautifully written and illustrated picture book biography.
Jim Henson began his puppetry career at a very young age when as a child, his entertaining stories were "filling notebooks with creatures he made up." By age sixteen, he was operating puppets on television. One day in 1968, he got a phone call from a TV producer that would change his life. They discussed the importance of preschool education in children's lives. Poor children usually had no access to it – but they did have TV's. Could TV be used to teach? And would his Muppet company help her new show for preschoolers? What happened as a result of this collaboration changed the world for the better, educating and entertaining millions of young children from various socio- economic and cultural backgrounds.
Who will like this book? The beauty of this biography is that young readers ( as well as adults) – who grew up watching the Muppets and Sesame Street can enjoy an introduction into the life of an amazing, one of a kind creative genius.
If you like this, try this:  For little ones who are fans of The Muppets, the library has a huge selection of DVDs and books that focus on the characters.  For more information about Jim Henson, try "Who Was Jim Henson?" by Joan Holub.
If your interest is more in the actual puppets, try "Balloons Over Broadway" by Melissa Sweet- a different- much larger! type of puppet.
Recommended by: Beth S, Children's Librarian
If you or your little one would like to take a look at this book, visit the Fairfield Public Library catalog to see if it's available or place a hold!
Tags: 2011 Releases, America, Biography, Education, Television
Posted in Biography & Memoir, Childrens | No Comments »