Posted by Book Mavens on 15th April 2012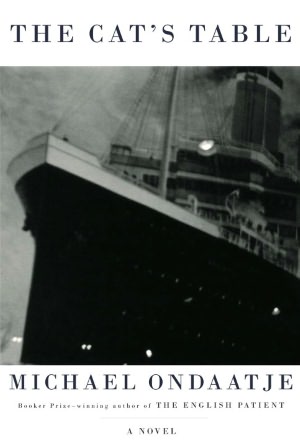 Title: The Cat's Table
Author: Michael Ondaatje
Publisher: Knopf, New York: 2011
Summary: I must confess I am thoroughly besotted with Mr. Ondaatje's writing and romanticism.  Years ago I am came across his first book "Coming Through Slaughter" (House of Anansi, 1976) about the jazz musician Buddy Bolden who lived a very short and troubled life. The language was like a river of torment and beauty structured like the flow of jazz with long riffs, then the staccatos of short blasts and then more complexity as Bolden descends into madness. This was Ondaatje's first novel and he deservedly won the Books in Canada First Novel Award.  That is when I first caught the Ondaatje bug. The next time I was overwhelmed by his writing is when I read The English Patient – before I saw the lush movie. Once again feel in deep, deep love.  His other books have not been as richly satisfying and I was thinking of ending our love affair. "The Cat's Table" came out just in time for me to give him one more chance. And voila the sentiments have been renewed.
This book is an exotic "Harriet the Spy" tale set aboard a ship traveling from Sri Lanka to England.  The protagonist is an 11-year old boy who is seated at the lowliest table on the ship complete with a set of eccentric personalities several with big secrets he is compelled to try to reveal. The boy records what he sees on the journey and Ondaatje is a master at capturing the feelings and curiosities of this young explorer. He writes:   "Sleep is a prison for a boy who has friends to meet." This tale is surely semi auto-biographical as the author is a native of Sri Lanka who emigrated to Canada where he now lives. There is a wistfulness about the telling as if the author remembers his young days longing to return to that time of innocence (or as the author puts it:  "naked with innocence") while standing on the precipice of maturity.  He begins to discover basic truths:  "What is interesting and important happens where there is no power.  Nothing much of lasting value ever happens at the head table, held together by familiar rhetoric." When I come across beautiful passages in any book I am compelled to read them aloud and hear the beauty and rhythm of the words. So many times when reading this book I stopped, reread the passage, and then read it aloud again. Bravo Michael Ondaatje.
Recommended by: Karen, Town Librarian
A second look:  When on a ship voyage, the most desirable place to be seated for dinners is the Captain's Table. The most socially connected sit there. Those considered to be the least significant are seated at table # 76 –the "cat's table"– as far away both physically and socially as one can be seated from the Captain. In 1950, this is precisely where 11 year old Michael is seated: aboard the Oronsay, traveling from Sri Lanka to London to be reunited with his mother. Michael, who is the novel's  arrator, though by himself, is quick to make friends with two boys making the same voyage: asthmatic Ramadhin and the rambunctious trouble-maker, Cassius.
For 21 days, unfettered for the most part by adult authority, daring and unsupervised, they explore the ship and roam the decks looking seeking adventure, hiding in  lifeboats to spy on the guests, and strive to learn the secrets of others, like the shackeled prisoner who is escorted at night on the deck. The boys quickly realize that their insignificance means they are "invisible to officials such as the purser and
the head steward, and the captain."
"Sleep is a prison for a boy  who has friends to meet…We could not wait to continue exploring this universe." One adventure, in particular, took place on a wild rainy night
with dangerous and heaving waves — when Cassious and Michael know they must
observe and experience a "catastrophe" first hand (the storm) , so they have Ramadhin strap them to the deck and nearly drown!
Each day, the boys rejoin their interesting and eccentric adult dinner companions, also seated at the "cat's table". Each person at the cat's table had interesting reasons for being on board, even if it was unspoken or, as yet, undiscovered by the boys.
"…those at the Captain's Table were constantly toasting one another's significance. That was a small lesson I learned on the journey. What is interesting and important happens mostly in secret, in places where there is no power."
Later in the book, Michael realizes that for years he never thought about that voyage until he reaches a point in his life where he realizes the impact that the trip had on him and his ship-board friends.
I would recommend this book to anybody! But, if you really enjoy stories about boys, such as Boy's Life, by Robert McCammon, or some of Stephen King's fiction that centers on the life of boys, this is the book for you.
Recommended by: Susan Z, Reference Librarian
Who will like this book: Those who enjoy reading literature, especially those books that take you to far-away places. Those who aren't intimidated by a murky reality or magical realism.
If you like this, try this: The Sense of an Ending, by Julian Barnes, which also offers a multi-layered account of memories
If this looks like a book you'd like to read, visit the Fairfield Public Library catalog to place a hold or check availability!
Tags: 2011 Releases, Adventure, Canada, Coming of Age, Sri Lanka, Voyage
Posted in Fiction, Literary | 1 Comment »