Posted by Book Mavens on 21st July 2011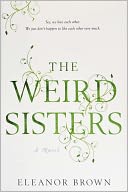 Title: The Weird Sisters
Author: Eleanor Brown
Publisher: Amy Einhorn Books/G.P. Putnam's Sons, 2011
Summary: Three sisters named after Shakespearean characters, Rose (Rosalind; As You Like It), Bean (Bianca; The Taming of the Shrew), and Cordy (Cordelia; King Lear) are the daughters of Professor James Andreas, a lover of Shakespeare who answers their questions and offers advice in Shakespearean quotations. You need not be familiar with Shakespeare to enjoy this witty, clever novel, but it would make it more amusing. The sisters return to the family home in Barnwell, Ohio, ostensibly to take care of their mother stricken with breast cancer, but ultimately to deal with their own personal issues. Cordy is pregnant, broke and has nowhere else to go, Bean has been fired from her job in New York for embezzlement, and Rose is afraid her family will not survive without her full attention and involvement. Although the subject matter is serious, the book does have elements of humor as each sister is unique, funny and lovable in her own way. It does help to know – which is not clear at first – that the narrator is the voice and point of view of all three sisters. I am hoping for a second novel by this new and accomplished writer.
Who will like this book? Those who enjoy good modern fiction as well as stories of family life
If you like this, try this: The Nobodies Album by Carolyn Parkhurst, Family Album by Penelope Lively, Rescue by Anita Shreve
Recommended by: Paula, Reference Dept.
Does this look like your type of read? Click here to enter our catalog and place a hold or check availability!
Tags: 2011 Releases, America, Cancer, Family, Shakespeare
Posted in Fiction, Popular | No Comments »