Posted by Book Mavens on 24th January 2012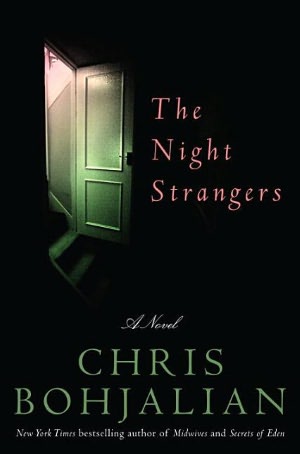 Title: Night Strangers
Author: Chris Bohjalian
Publisher: Crown, 2011
Summary: The beginning of Chris Bohjalian's latest book is riveting.  It had me gasping for breath as I read about Chip Linton, a seasoned pilot, who had to ditch his jet in Lake Champlain after jamming into a flock of geese.  The normalcy of being seat belted into a chair and the next minute hitting the water and going under is frightening.  The body count, thirty nine deaths.
Chip, his wife (a lawyer) and their twin ten-year old girls move to New Hampshire in the hope that they can rebuild their lives.  However, in a musty dirt floor basement in the corner of the room sits a door that has long been sealed with 39 six-inch-long carriage bolts.  39 bolts, 39 deaths on the plane. It only gets spookier from there.
This novel is for sure a psychological thriller but it's also a domestic drama and the story of a family coping with the aftermath of a horrible catastrophe.
The ghost story develops when Chip begins to see some of the dead from the plane crash, but there are also herbalists aka witches who play a huge part in the demise of this family.  As you read through you begin to build your own dread on what is going to take place.  The ghosts know exactly what they want and Chip is beginning to understand what he must do to help them.  Meanwhile you begin to understand that this cult of women, in this tiny town, is definitely moving this plot into a not so happy ending.  They are a strong and fearful group to reckon with and Chip and Emily's twins will play an important role in their desires.
I haven't read a ghost story in a long in a while but I really enjoyed this one.
Recommended by: Nancy, Deputy Town Librarian
Who will like this book?: Those who are already fans of Bohjalian, or those who enjoy psychological fast-paced thrillers
If you like this, try this: Other Bohjalian books, or other psychological thriller authors such as John Sanford or Jeffrey Deaver
Does this look like something you'd like to read? Visit the Fairfield Public Library catalog to put a hold or check availability!
Tags: 2011 Releases, Ghosts, New Hampshire, Plane Crash, Twins, Witches
Posted in Fiction, Mysteries & Thrillers, Popular | No Comments »