Posted by Book Mavens on 18th December 2011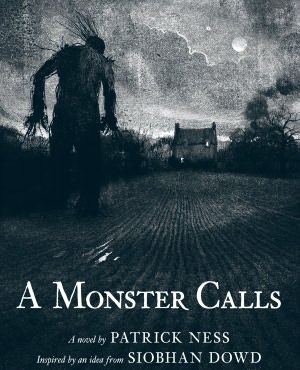 Title: A Monster Calls
Author: Patrick Ness
Publisher: Candlewick 2011
Summary: 13-year old Conor's life is spinning out of control. His mother is dying of cancer, his dad has run away to America to live with his new family, he's the target of bullies at school, his work-centric over-bearing grandmother has come to stay with the family, and now- a monster has shown up at 12:07 outside his bedroom window. The monster, disturbingly drawn in sharp strokes of black and white, will tell Conor three stories: and then? Conor must share his own story, the nightmare that has woken him from sleep and haunted his waking life. As the monster, a Yew tree in its current form, tells his three stories, Conor must gather the strength to tell his own story, one he's never shared with anyone.
A Monster Calls is a book that can be read in one sitting, the story gripping and the pictures haunting. The Yew tree's stories offer life lessons that most kids will learn eventually: that there isn't always a good guy and a bad guy, that people can be both, and that sometimes sacrifices must be made for a greater good. Conor's story itself, which the reader will experience glimpses of throughout the book, is not the one you would expect. The book deals with death well, offering stories of death in several different lights but also never downplaying how difficult both life and death can be. Apart from the Yew tree's stories, additionally the topics of bullying, mental issues, and familial relationships is addressed. While older children will certainly be intrigued by the story, teens and adults will feel its impact more directly.
If you liked this, try this: Teens and adults will enjoy Siobhan Dowd's stories such as "Bog Child". The story was inspired by an idea by Dowd, who passed away before the work was completed. Middle grade children seeking information about death may try "The Naming of Tishkin Silk", which deals with losing a younger sibling.
Recommended by: Lauren, Technical Services Assistant
Tags: 2011 Releases, Bullying, Cancer, Children's Books, Coming of Age, Nightmares, Teen Books
Posted in Fiction, Popular, Teen Books for Adults | No Comments »