Posted by Book Mavens on 26th June 2012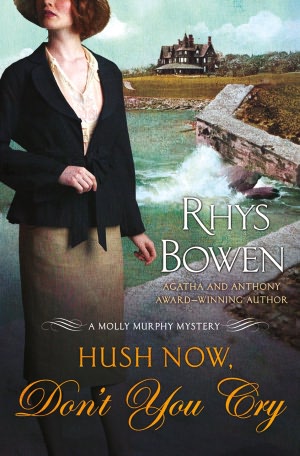 Title: Hush Now Don't You Cry
Author: Rhys Bowen
Publisher: Minotaur Books, 2012
Summary/Review: Whether you have followed private detective Molly Murphy from the beginning of her series, or whether she is new to you, this latest installment is a fun change of scenery. It is the the spring of 1904 and  Molly heads to Newport with her new husband, police detective Daniel Sullivan, to attempt a honeymoon. They are quickly embroiled in another murder mystery and when her husband comes down with pneumonia and is stuck in bed, it is up to Molly to piece together all of the secrets that led up to murder.  Taking Molly and Daniel out of turn-of-the-century New York City is a good twist, and seeing Newport as it was in its heyday is a fun commentary on how the other half lived.
Who will like this? Anyone who likes a good mystery or a historical fiction; this is a great mix of both.
If you like this, try this: Others in the same series. Rhys Bowen also writes the Constable Evans series, set in Wales, and the Lady Georgiana mysteries, set in London in the 1930's.
Recommended by: Linda Q., Circulation staff
If you'd like to try this book out, visit the Fairfield Public Library catalog to see if it's available and place a hold! [link will open in a new window]
Tags: 2012 Releases, Detective, Murder, Newport, Rhode Island
Posted in Fiction, Historical, Mysteries & Thrillers | No Comments »