Posted by Book Mavens on 3rd May 2012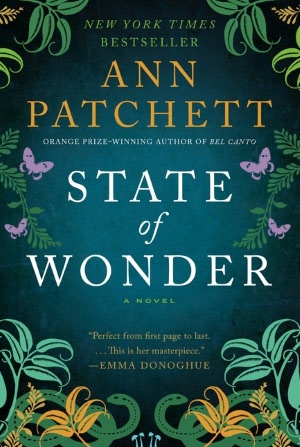 Title: State of Wonder
Author: Ann Patchett
Publisher: New York : Harper, 2011.
Review/Summary: Dr Marina Singh isn't one for adventure. She hasn't even left Minnesota much until she is sent to the Amazon to delve into the mysterious details of the death of her lab partner, Anders Eckman. After working as research scientists at the Vogel pharmaceutical company for seven years Eckman was asked to go check on another scientist's miracle drug project in Brazil. He never returns. Now Marina is compelled to follow and she finds herself on an unpredictable journey of discovery. Facing sweltering heat, terrifying wildlife and obstructive natives Marina finally locates the camp where Eckman was last seen. There she is reluctantly greeted by a transformative figure from her past and Marina struggles to learn what really happened to Eckman and what exactly they are all doing in this Amazonian rainforest. A multi-layered, subtly rendered and thrilling read.
Who Will Like This: Patchett fans. Patient mystery readers.
If you like this, try this: Bel Canto, also by Patchett. Cutting for Stone by Abraham Verghese.
Recommended by: Jen, Children's Assistant
Does this look like something you'd like to try? Check out the Fairfield Public Library catalog to check availability or place a hold!
Tags: 2011 Releases, Amazon, Brazil, Fertility, Medicine, South America
Posted in Fiction, Literary | No Comments »