Posted by Book Mavens on 23rd June 2011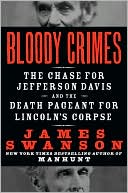 Title: Bloody Crimes: The Chase for Jefferson Davis and the Death Pageant for Lincoln's Corpse
Author: James Swanson
Publisher: William Morrow, September 2010
 Summary: Beginning with the assassination of Abraham Lincoln, Bloody Crimes tells the parallel stories of Lincoln's final journey home and Davis's flight and ultimate capture. Swanson details the events immediately following the shooting of Lincoln, including the chaos at the Peterson house where Lincoln's body was taken immediately following the attack. From the hysterical and inconsolable Mary Lincoln to the doctors and government officials who came and went throughout the evening, the Peterson house became the first place of mourning. When Mary Lincoln finally decided on Springfield as the President's final resting place, the death pageant began. The journey by train took thirteen days, covered 1,645 miles and never deviated from the master timetable. Lincoln's coffin was displayed in 10 cities along the way. Each city hastily constructed viewing chambers for their honored guest, and each city tried to make their display more elaborate than the last. Cleveland constructed a "temporary outdoor pavilion" made to look like a Chinese pagoda. Government officials, embalmers, and the coffin containing Willie Lincoln traveled on the train with Lincoln. More than one million Americans passed by the President's coffin while it was on display and more than 7 million people lined the train tracks as the train passed by. To the many onlookers "Lincoln's coffin became a kind of ark of the American covenant, possessing hidden meanings and mysterious powers." Meanwhile, with the surrender of Robert E. Lee and the Union army closing in on Richmond, Jefferson Davis began his flight south. A $100,000 bounty (more than $2 million today) was placed on Davis's head. This was twice the amount offered for the capture of Booth. Lincoln, who was always forgiving, probably would have wanted Davis to escape and live in exile, but after Lincoln's murder northerners wanted revenge. Davis was one of the last to accept that the cause was lost and that the South was defeated, and he moved slowly-never wanting to appear that he was fleeing. Thirty eight days after leaving Richmond, Davis was captured near Irwinsville, GA and gave up without a fight. His flight took him "through four states by railroad, ferry boat, horse, cart, and wagon". After his capture he began his 12 day journey to imprisonment and 2 year captivity in Fort Monroe, VA. This is a highly readable account of an important event in our history and Swanson does a great job of showing us just how beloved Abraham Lincoln really was.
 Who Might Like This?: Civil War buffs and Abraham Lincoln admirers, and anyone who is interested in American history.
If you like this, try this: Manhunt: The 12-Day Chase for Lincoln's Killer By James Swanson.
Recommended by: Sue B, Circulation Coordinator
Look like something you'd enjoy? Click here to visit our catalog and check availability and place a hold!
Tags: 2010 Releases, Abraham Lincoln, America, Assassination, Crime, Jefferson Davis
Posted in History, Non-Fiction | No Comments »