Posted by Book Mavens on 31st March 2012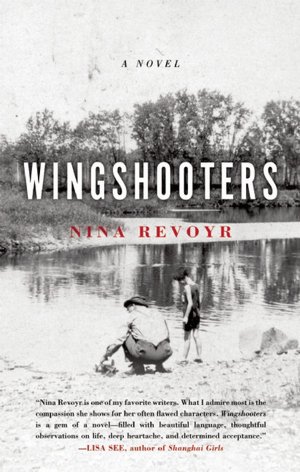 Title: Wingshooters
Author:  Nina Revoyr
Publisher: Akashic Books, 2011
Review/Summary: "Wingshooters" is grim reminder that hatred and bigotry have no place in a civilized world.
Michelle LeBeau, the nine year old daughter of a white American father and Japanese mother, has come to live with her American grandparents in Deerhorn, Wisconsin. It's the early 1970's and Deerhorn has remained virtually unchanged for the past 30 years. Michelle, or "Mike", as her grandfather likes to call her, is the first non-Caucasian person many residents have ever seen. No one is very happy that she has come to live in their town. Mike's grandfather, Charlie, who is well respected in town, is torn between his love for his granddaughter and the shame of his son's marriage. Michelle is tormented and bullied by her schoolmates but finds comfort spending time outside with her dog Brett. When an African American couple comes to live and work in town, Michelle sees just how ignorant, bigoted and hateful her neighbors, and her grandfather, really are.
This is a powerful, brutal and disturbing story that will leave you shaking your head at the senseless violence and utter disregard for life portrayed within its pages. A great choice for book clubs, this wonderfully written novel will linger in your thoughts well after the last page is turned.
Who will like this book?: Someone who is not afraid to read about the realistically devastating effects of racism.  Someone looking for a more literary read, focused on complex family bonds and historical events.
If you like this, try this: If you're looking for more books dealing with racism in general, check out "To Kill a Mockingbird" by Harper Lee, or "A River Runs Through it", a short story by Norman Maclean.  If you're more interested in the Japanese American historical fiction, try "Snow Falling on Cedars" by David Guterson or "Hotel on the Corner of Bitter and Sweet" by Jamie Ford. Nina Revoyr also has a few other books, titled "Necessary Hunger" and "Southland".
Recommended by: Sue B, circulation coordinator
If this looks like something you'd like to read, visit the Fairfield Public Library catalog where you can check if its available and place a hold!
Tags: 2011 Releases, America, Family, Japanese American, Racism, Survival, Wisconsin
Posted in Fiction, Historical, Literary | No Comments »