Posted by Book Mavens on 17th May 2012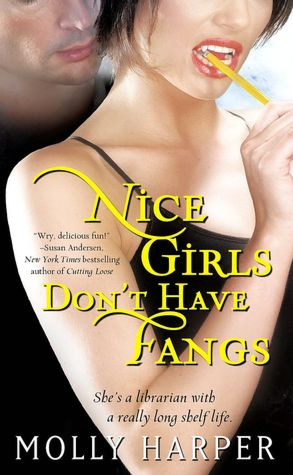 Title: Nice Girls Don't Have Fangs
Author: Molly Harper
Publisher: Pocket Star, 2009
Summary/Review: This year brought Fairfield a light winter and an early spring, so I am channeling summer and diving into some good beach reads!
When Jane Jameson is unjustly fired from her position as the town's Children's Librarian, she heads off to the local pub. After a few rounds, she stumbles home only to be accidently mistaken for a deer, shot, and left for dead in a field. But, then a good-looking vampire – a group who has recently gone public thanks to a federal lawsuit – finds her and offers to turn her. She accepts the offer and three days later wakes up to find her world changed. Welcoming Jane to this new life is a gift basket from the Newly Undead Welcoming Committee, as well as, a cute and mysterious sire, Gabriel.
When someone starts framing Jane for a series of murders in her small town of Moon Hollow, Jane sets out to prove she's still the nice girl she has always been. This book is the first in a series about Jane Jameson and her supernatural friends, but very normal family.
Written with humor (and a few jokes only a Children's Librarian would understand), Nice Girls Don't Have Fangs is great for those readers who enjoy a little paranormal romance in their lives.
Who Will Like This Book: Fans of the Sookie Stackhouse series, Nora Roberts fans, and adult readers of the Twilight saga.
If You Like This, Try This: A Discovery of Witches by Deborah Harkness, Outlander by Diana Gabaldon,  Sign of the Seven Trilogy by Nora Roberts,  The Winter Sea by Susanna Kearsley,  Daughter of Smoke and Bone by Laini Taylor
Recommended by: Mary Sorhus, Head of Children's Services
Does this look like your kind of book?  Visit the Fairfield Public Library Catalog to check if it's available and/or place a hold!
Tags: 2009 Releases, Comedy, Murder, Romance, Vampires
Posted in Chick Lit, Fiction, Popular, Romance, Science Fiction & Fantasy | No Comments »