Posted by Book Mavens on July 5th, 2012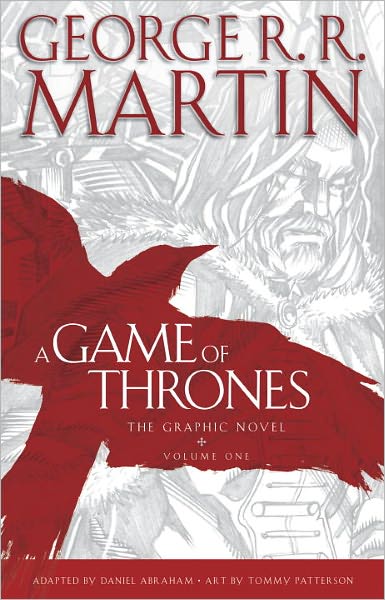 Title: Game of Thrones, Volume One: The Graphic Novel
Author/Illustrator: Daniel Abraham/Tommy Patterson
Publisher: Random House, 2012
Summary/Review: How many times can an original work be successfully adapted? In the case of George R. R. Martin's sprawling (and still continuing) epic, A Song of Ice and Fire, the answer seems to be at least twice: First into a popular, Emmy-nominated HBO series and now as a planned series of graphic novels. If you saw the show and are intrigued by Martin's medieval fantasy world or have heard about it and are intrigued but don't feel like you have the time to read the massive books, this graphic novel adaptation would be a great choice for you.
Daniel Abraham does a great job of adapting the book into the graphic novel format while preserving Martin's signature point of view writing style. Patterson is a skilled illustrator who has woven his own distinct style into each full-color panel. Like the TV show, the creators have chosen key scenes to tell the story and manage to pull it off without sacrificing too much detail. This is not a novelization of the HBO series: It features scenes omitted from the show and presents others in a way that more closely matches Martin's work in its intensity, brutality and mature content.
This graphic novel tells about half the story of the first book and another volume is planned for later in the year. And while I would recommend reading Martin's books first – yes: all 3000 pages and counting – this graphic novel is the next best thing.
Who will like this?: Fans of the TV or book series might be interested in giving this different take a try. Those who enjoy graphic novels, who aren't afraid of some intense content.
If you like this, try this: If you are interested in the content, try out Martin's other books, if you have the time to devote to them.
If you are interested in getting into more graphic novels, "Watchmen" by Alan Moore, "Persepolis" by Marjane Satrapi, and "Maus" by Art Spiegelman might be a good place to start. These are popular staples of the genre.
If you're interested in the fantasy/science fiction aspect, some other great books in that genre are J.R.R Tolkien's "The Hobbit"/"Lord of the Rings" series. For younger readers, "Harry Potter" by J.K Rowling.
Recommended by: Nicole, Teen Librarian
You can visit the Fairfield Public Catalog to check availability, or to place a hold on this book! [Link will open in a new window]