Posted by Book Mavens on May 31st, 2012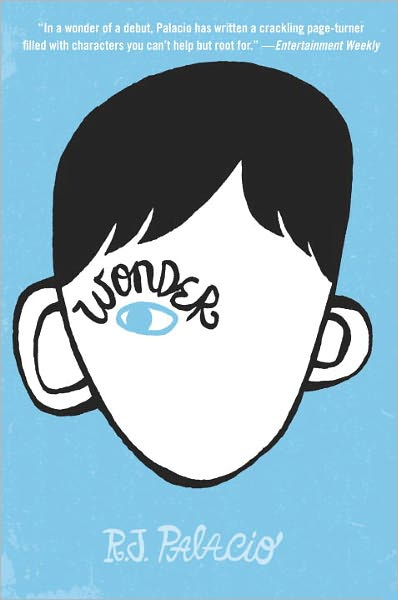 Title: Wonder
Author: R.J. Palacio
Publisher: Knopf Books for Young Readers
Review/Summary: Auggie was born with a facial deformity, so he was homeschooled through years of surgeries and recoveries. Now, he is starting fifth grade and if you thought middle school was hard, then this is a testament to true friendship, understanding and kindness. This uplifting story made me laugh out loud, cry and wonder at his strength and resiliency. He is plucky and funny, vulnerable and charming. His family are so natural, real and supportive. This first novel by author Palacio addresses the insecurities of school-aged children and should be a must read for children grades five and up, as well as their parents, as it encourages discussion about love, support, and judging people on their appearance. And yes," everyone deserves a standing ovation, at least once in their lives."
Who will like this book?: Those who don't shy away from reading about difficult, real-life, touching scenarios. Anyone who has ever felt judged, misunderstood, or who just wants to read about someone who is "different".
If you like this, try this: If you liked Palacio's writing style, be on the lookout for more from him- since this debut novel has created a huge amount of buzz, we hope he'll be back with more soon.
If you're interested in the subject matter of bullying, try "The Chocolate War" by Robert Cormier (also a teen book) or "Nineteen Minutes" by Jodi Picoult- one for slightly older teens, as it's more graphic. For littler ones looking for an introduction on the subject, "Chrysanthemum" by Kevin Henkes is a good place to start.
For those who are interested in reading about other people with "differences", this sensitive matter can be introduced with books such as "Rules" (Autism) by Cynthia Lord or "Out of my Mind" by Sharon Draper (Cerebral Palsy). However, the subject of severe facial deformities in young adult/older children's books is relatively rare, so this book may have opened the door for more fiction pertaining to the subject.
Recommended by: Cindy B. Children's Librarian
If this looks like a book you or your young adult/child would like to try out, visit the Fairfield Public Library catalog to see if it's available and place a hold!