Posted by Book Mavens on May 20th, 2012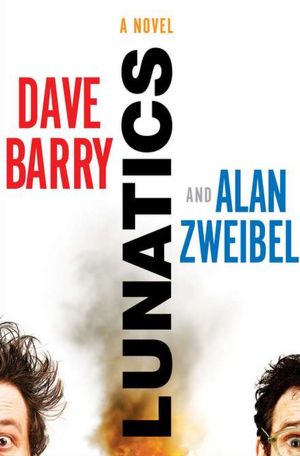 Title: Lunatics
Author: Dave Barry & Alan Zweibel
Publisher: Putnam Adult, 2012
Summary/Review: Dave Barry is a Pulitzer Prize-winning author and Alan Zweibel is a winner of the Thurber Prize for American Humor. Together they have created an outrageous, over- the- top madcap story that had me laughing out loud! Pure fun and enjoyment, I zipped right through it!
I recommended it to my sister and she was crying she was laughing so hard! We obviously share the same weird sense of humor. Two suburban fathers take an instant dislike to each other at their children's soccer game and the story spirals out of control from there. There are alternating chapters from each point of view, written by each author. I recommend this as an anecdote to the stressful and harried lives most lead-it is pure comic relief!
Who will like this book? Someone who's not afraid to laugh. Someone looking for a fun, zany story.
If you like this, try this: If you're looking for lots of humor, try David Sedaris, Amy Sedaris, or  Jenny Lawson (who has a new one coming out soon!) To veer into the political humor/satirical side, try out  Stephen Colbert, or Jon Stewart.
Dave Barry also has a number of books include "Dave Barry Turns 50″, "Dave Barry Talks Back", and "Dave Barry in Cyberspace".  Alan Zweibal's include "Our Tree Named Steve", "Clothing Optional: And Other Ways to Read Stories", and "North" – yes- he wrote the screenplay for the movie, too!
 Recommended by: Cindy B., Children's Librarian
Does this look like a book for you? Visit the Fairfield Public Library catalog to see if it's available and place a hold!