Posted by Book Mavens on April 6th, 2012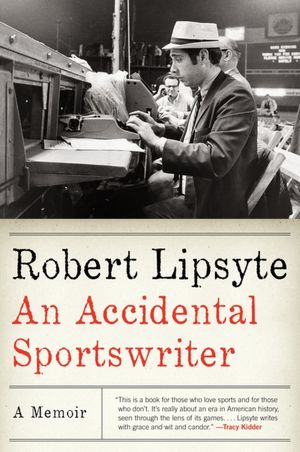 Title: An Accidental Sportswriter
Author: Robert Lipsyte
Publisher: Harper Collins, 2012
Summary/Review: I appreciated this book because beyond the very interesting inside stories of Lipsyte's relationships with many internationally famous sports champions including Muhammad Ali, Althea Gibson, Howard Cosell, Mickey Mantle, Richard Petty, and others, I was made aware for the first time why Lipsyte was justifiably famous as a sports writer, perhaps one of the first sports writers with an incredibly strong and ethical social consciousness.
He was one of the first New York Times  sports beat reporters who spoke his mind about racism, drug abuse, homosexuality, and sex in the previously sacrosanct major professional and college sports. I would recommend this book not only for it's personal insights into athletes everyone feels familiar with, but also as a window into one man's  attempt to drop the veil of secrecy surrounding sports heroes.
Who will like this book?: Someone  who enjoys reading memoirs about people who didn't take the traditional  path.  Someone who's interested in sports  and isn't afraid to learn about the dirty secrets involved with them.
If you like this, try this: If you're  interested in sports reporting, there's an anthology released yearly entitled "Best  American Sports Writing".  Also, try out "The  Only Game in Town: Sportswriting from The New Yorker" by David Remnick.
If you'd like to read more about baseball, check out the Art of Fielding by Chad Harbach
If you have a child or teen  interested in sports and you'd like to get them started on some good reading,  check out Mike Lupica or Tim Green (a former NFL-er), two well-known sports  authors.
Recommended by: Mark Z, Guest reviewer!
Want to see if this book is available or place a hold? Visit the Fairfield Public Library catalog!