Posted by Book Mavens on March 6th, 2012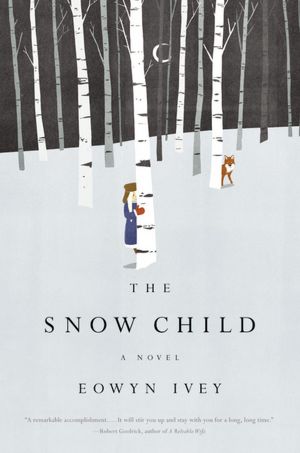 Title: The Snow Child
Author:  Eowyn Ivey
Publisher: Little, Brown and Company, February 2012
Review/Summary: The year is 1920 and homesteaders Jack and Mabel are struggling to make a new life in Wolverine, Alaska. It's been 10 years since their only child was stillborn but their attempt to leave the pain behind them has failed. Two years ago, at Mabel's urging, the couple fled the constant reminders of their loss and Mabel's overwhelming feelings of failure. Farming in Alaska, however, turned out to be more difficult than the brochures let on. Jack and Mabel's isolation from the world has slowly developed into their emotional isolation from each other. Now, as both near 50, they must make a decision. Do they stay or do they go?
   In a rare moment of playfulness, during the first snowfall of the season, Jack and Mabel see the beauty of the land and the reason they so wanted to stay. The two build a small snow child, a girl with yellow grass for hair and adorned with a scarf, mittens, and wild cranberry juice to redden her lips. The next morning, Jack thinks he sees a small girl running through the woods and soon discovers that all that is left of their snow child is a small pile of snow. Could this child in the woods really be their snow child come to life, just like the snow maiden in one of Mabel's favorite childhood fairy tales?
   "The Snow Child" is an enchanting story of hope, loss, and love. Rich in details of the Alaskan wilderness and with characters so fully imagined, you will feel as if you are right there with Mabel and Jack, watching as their story unfolds. This debut novel should be on everyone's "to read" list.
Who will like this?: Fans of modern-day fairy tales, anyone looking to get lost in the dreamy Alaskan wilderness for a few hours.  Fans of magical realism.
If you like this, try this: The original "Snow Child" fairy tale. If you're interested in the Alaskan wilderness, try "Into the Wild" (Krakauer) or "Call of the Wild" (London).  If you're looking for more modern fairy tales, try "The Book of Lost Things" (Connolly).  For younger readers, try "The Girl Who Circumnavigated Fairy Land in a Ship of her own Making" (Valente) or "Tale Dark and Grimm" (Gidwitz).
Recommended by: Sue, Circulation Coordinator
If this looks like a book you'd enjoy reading, visit the Fairfield Public Library catalog to see if it's available and/or place a hold!