Posted by Book Mavens on January 4th, 2012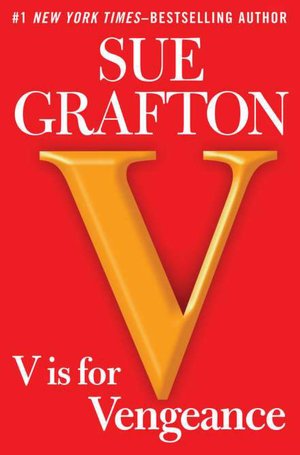 Title: "V is for Vengeance"
Author: Sue Grafton
Publisher: Penguin, 2011
Summary: I have been a fan of Sue Grafton's alphabet mysteries since her first one "A is for Alibi."  Her main character Kinsey Millhone, who was born in the 1950's, has been a PI since the early 80's.  I always related to Kinsey driving around in her beat up Volkswagen, wearing her jeans, turtleneck sweater and boots. When need arose to make a visit to a more elegant venue she'd climb into her back seat of the car, to change into her pantyhose and skirt and manage to walk into a crowd sassy and smart.   She was just a funky kind of PI.
Her life has evolved over the years, and alphabet, into a seasoned Private Investigator.  We are still in the 1980's for this latest book and it opens with Kinsey celebrating her birthday with two black eyes.  Kinsey decided to stop in at Nordstrom's and take a look at some lingerie and silk pj's. That was unfortunate for the woman who was shoplifting.  The woman is caught but when released from jail commits suicide by jumping off of a bridge, or did she?  This woman's finance wants to know the answer and hires Kinsey to find out.  Kinsey hasn't mellowed at all in this latest installment.  She begins an investigation of a woman with a murky past; she stumbles onto the death of a spoiled kid, who had a huge gambling debt he thought he could beat and she runs into a powerful "mafia" style boss whose dealings fall outside of the law.  Oh yeah, and just to add a little bit more spice to the situation there's a "bad" cop involved.
You might think that after 21 books Ms. Grafton's 22 might be a little stale and boring.  But she's kept Kinsey current to the timeframe and life of the 1980's as she's added new and interesting characters to her life.  A quick and enjoyable read.
Recommended by: Nancy, Deputy Town Librarian
Who will like this book: Those who are looking for a quick-paced and exciting mystery. Those who are looking for an exciting and quick read.
If you like this, try this: Anything else by Grafton, especially the Alphabet Series.