Posted by Book Mavens on August 11th, 2011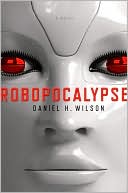 Title: Robopocalypse 
Author: Daniel H. Wilson
Publisher: Doubleday, 2011 
Summary: Robopocalypse pulled me in from the first line and it's one of those books that you don't want to stop reading.  Imagine a mix of "I, Robot"; "Terminator:  Rise of the Machines" and "World War Z" with characters that you really come to care about and you'll have some idea of the fun you'll have reading Robopocalypse.
In a not too distant future, the machines that we have come to rely on to a scary extent, unite and turn against us.  Under the leadership of Archos, their goal is to decimate human kind.
I've always thought the machines would bring us down by slowly driving us insane.  The copy machine that jams when you need it the most, the plane that's just late enough to make sure you miss your next connection, the AC that gives out when the temperature reaches 99+.  The machines in Robopocalypse aren't quite that subtle and some serious carnage results.
The war starts with isolated incidents that can be passed off as malfunctioning machines but when the smart cars start jumping curbs and running people down and the commuter planes start dropping from the sky like bombs, human kind must actually unite against a common enemy.
The action is riveting but it's the characters, both human and machine, that make this book the absorbing read that it is.  My only complaint about Robopocalypse is the length.  At under 400 pages, it's just too short.  There are too many stories left to tell.  I wanted to hear all about Lark Iron Cloud's 3 day journey in the unknown, how Tiberius and Cherrah met while escaping from Albany, what happened to Brightboy squad on their cross country journey to Gray Horse.  I was looking for a 1,000 page doorstop of a book.
I'll be waiting for Daniel H. Wilson's next book – and maybe a movie version of Robopocalypse!
Recommended by: Sue D'Num; Technical Services Department
Does this look like your type of book? Click here to visit our catalog and check availability/place a hold