Posted by Book Mavens on July 5th, 2011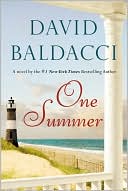 Title: One Summer
Author: David Baldacci
Publisher: Grand Central Publishing, June 2011
Summary: This book had me in tears, in spite of myself.  A young man, father of 3 (ages 2-15), is quite suddenly stricken with a fatal disease and doesn't expect to live much past Christmas.  His wife grew up in coastal South Carolina and the family still owns a large house on the beach (named The Palace, even though it is showing its age).  She wants to take the kids there the next summer, away from their home in Ohio.  There is a lot of sorrow in this book, including several deaths and a lot of regret for not having lived life more in the moment, and some of the plot seems pretty contrived, but it's fast-paced chick lit.
Who might like this book?: Someone looking for a fast-paced beach read
Recommended by: Lauren D, Reference Librarian
Does this look like a book you'd love to read? Click
here
to open our catalog, where you can check availability and place a hold!