Posted by Book Mavens on July 14th, 2011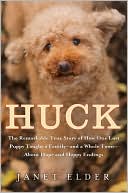 Title:  Huck:  The Remarkable True Story of How One Lost Puppy Taught a Family – and a Whole Town – About Hope and Happy Endings
Author:  Janet Elder
Publisher:  Broadway Books, September 2010
Summary:  Four year old Michael is desperate for a dog of his own.  However, his parents stand firm in not bringing a dog into their fast-paced New York City lives.  For years, Michael's yearnings for a dog are relentless.  When Michael's mother, Janet Elder, is diagnosed with Breast Cancer, his parents decide that a puppy will be the antidote to help Michael get through the emotional turmoil which his mother's illness will cause.  Huck, a sweet, mischievous, red-haired toy poodle, joins the family and soon wins over the hearts of the Elder family.  Janet's cancer treatments are over and the family takes a vacation in Florida leaving Huck in Ramsey, New Jersey with Janet's sister.  The suspense begins when Huck slips through the backyard fence and runs away.  The family is frantic and brokenhearted so they immediately fly back to New Jersey to begin the search to find their beloved pet.  Huck is lost in unfamiliar territory facing the threat of wild animals, swamps, freezing temperatures and fast cars.  Soon, the whole town of Ramsey, New Jersey learns about poor lost Huck.  Touched by the plight of the Elder family, they join in the search to find Huck.  This true story has a happy ending, but first you will read about the seemingly impossible mission of locating a tiny lost dog.  This book is truly uplifting and inspiring because it brings total strangers together sharing compassion and love.
Who might like this:  Anyone who loves animals, especially dogs
If you like this, try this:  Oogy:  The Dog Only a Family Could Love
Recommended by: Beverly, Branch Circulation Coordinator
Want to check this book out? Visit our catalog here to check availability and place a hold!