Posted by Book Mavens on 26th July 2012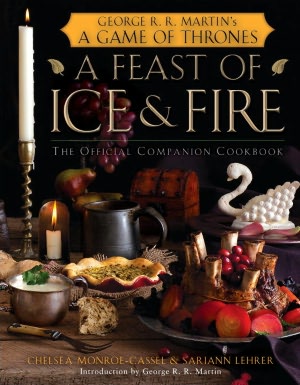 Title: A Feast of Ice and Fire: The Official Game of Thrones Companion Cookbook
Authors: Chelsea Monroe-Cassel and Sariann Lehrer
Publisher: Random House, 2012
Summary/Review: What sets the compelling books of the A Song of Ice and Fire book series by George R.R. Martin apart from so many typical swords and sorcery stories is the author's extreme attention to the little details. Precise depictions of clothes, architecture, the nuances of battle and for many readers, the detailed descriptions of the food of his imagined worlds of Westeros and Essos are what make these books feel more like literary fiction than high fantasy. Each of the kingdoms and cities have their own distinct culinary flair, from the frozen wilderness of the Wall to the desert landscapes of Dorne. And now you can cook your own feast inspired by Game of Thrones.
Bloggers and superfans Monroe-Cassel and Lehrer have combed through medieval cookbooks looking for inspiration for their recipe blog, The Inn at the Crossroads (named for a particularly infamous location in the book series.) The resulting cookbook is terrific. Organized into geographical locations from the books, most recipes are presented twice: Once using the traditional medieval instructions followed by a modern spin suitable for today's kitchens. The inclusion of the old-world recipes make this cookbook useful for students who might need to prepare authentic medieval food for school assignments in addition to traditional culinary historian-types. If you are as big a fan of ASOIAF as I am, you can look forward to preparing lemoncakes, Tyroshi honeyfingers and even a pot o'brown for your next viewing party or re-read of the books.
Who will like this?: Fans of the series who are interested in what their favorite characters would be eating.  Anyone who is interested in the Medieval times and are curious about the cuisine.  Anyone looking for a fun way to try something new!
If you like this, try this:  If you enjoyed the food and are interested in seeing what other cookbooks are out there, you can try an "unofficial" Game of Thrones cookbook.  One title is "The Unofficial Game of Thrones Cookbook: From Direwolf Ale to Auroch Stew – More Than 150 Recipes from Westeros and Beyond" by Alan Kistler.  You can also try "The Medieval Cookbook" by Maggie Black, though this is completely unrelated to the show.
If you are interested in the series and haven't read the book, it's about time you tried!  Also, check out one of our previous reviews for the game of thrones graphic novel!
Recommended by: Nicole, Teen Librarian
If this looks like a book you would be interested in, visit the Fairfield Public Library catalog to check its availability and place a hold [link will open in a new window]
Tags: 2012 Releases, Cooking, Fantasy, Food, Medieval
Posted in Food and Cooking | No Comments »