Posted by Book Mavens on 10th May 2012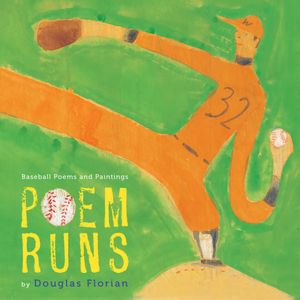 Title: Poem Runs (Baseball Poems and Paintings)
Author: Douglas Florian
Publisher: Houghton Mifflin Harcourt, 2012
Summary/Review: What is a better way to usher in Baseball
season with a book of baseball poems!
This new book of poetry by the creative poet and artist Douglas Florian
really hits a home run for children.  The pages are full of gorgeous spring colors of greens, blues, yellows and bright oranges. Two- page spreads of ball players warming up, pitching, catching, stealing bases have the players performing on each page.  Everyone is included in the game –the boys and
girls stretch, jump, slide, hit, and catch across the pages.  This is a book full of the pure joy children have playing the sport of baseball.  I can smell the fresh grass and dirt of a baseball field full of children.  "Play Ball!"
Who will like this book: Anyone- kids or adults, boy or girl-who enjoys baseball! Anyone looking for fun short poems and unique artwork.
If you like this, try this: Douglas Florian has written numerous other poetry books including "UnBEElievables", "Winter Eyes", and Autumblings".  If you're looking for more great baseball picture books, try "H is for Home Run" by Brad Herzog or "The Babe & I" or "Mama Played Baseball" by David Adler.
Recommended by: Cheryl, Branch Children's Librarian
Does this look like a book you (or your little one!) will enjoy? Check out the Fairfield Public Library catalog to see if it's available- and to place a hold!
Tags: 2012 Releases, Baseball, Children's, Poetry
Posted in Childrens, Poetry | No Comments »